BUILDING BETTER PEOPLE, EVERY DAY
Pembroke Pines (K-12) Campus - Chess
Why Chess?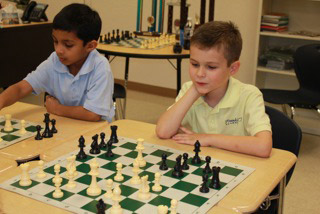 Chess is an integral part of the Franklin Academy curriculum. Dating back to the sixth century AD, chess is an excellent way to learn to focus, analyze problems, plan and execute solutions, and learn decision making skills that will help them throughout their life.
Studies have demonstrated that students who have completed a course in chess have shown significant improvement in science, mathematics, critical thinking and social skills.
At Franklin, chess is offered as one of the specials rotation for grades K‐5, and as an elective option for grades 6‐12. It is also offered as an afterschool club and as a competitive team that competes against other schools in local, regional and national tournaments.
Club Chess
Check with your local chess coach to confirm dates and times for Chess Club meetings.
Competitive Chess
The chess teams at each campus will be hosting chess tournaments and traveling to other locations to participate in chess tournaments. Check with your chess coach for details on plans to participate in the tournaments below.
Meet Our Chess Teachers
Boynton Beach
Cooper City
Palm Beach Gardens
Mr. BryanTillis, Life Master
Pembroke Pines (K‐8)
Pembroke Pines (K‐12)
Sunrise
View Full Gallery
Gallery